Community Board
At every step of the way, we have been working with Cambridge Road Estate residents to shape the regeneration plans for new homes and a new neighbourhood.
Set up in June 2020, the community board is a membership group made up of CRE residents, local resident and community groups, the three Norbiton ward councillors, and council officers, who work together to represent the CRE community throughout the duration of the regeneration programme. Together, they represent the estate's community throughout the regeneration programme to ensure the interests of all residents are taken into account at every opportunity. Board members do this by attending regular meetings. They also work with the regeneration team and may meet between meetings to work on specific projects and give feedback.
To ensure that the regeneration programme is successful — delivering for residents the safe, quality homes and neighbourhood they deserve — Community Board members use their experience and knowledge to:
provide ideas and give feedback.
review proposals and policies.
ask questions.
encourage participation of other CRE residents.
oversee bids to a community chest for community projects.
You can find out what our community board has been discussing by clicking on the links shown below and reading the minutes from the last few meetings.
Historic minutes and constitution can be requested from the regeneration team.
Interested in becoming a member?
If you are a CRE resident and interested in joining the Community Board, we are currently looking for five (5) new resident members.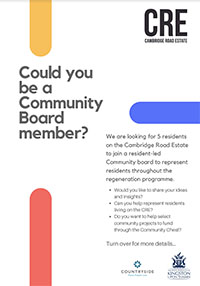 If you are interested in becoming a member, please, complete this form
If you would like to find out a bit more or need help completing the form, do get in touch with the team who would welcome the opportunity to help or talk with you about the board.